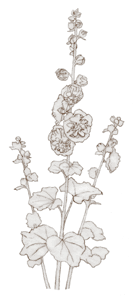 Gray Filled Line Drawing
I used Photoshop and a scan for this version of the hollyhocks.
I gave it a sepia tint with a filter, and I used the eraser tool to get rid of the background.
A light gray fill emphasizes how the lines "encapsulate" each shape, adds weight to the drawing, and makes the difference between positive and negative spaces clear.