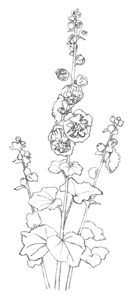 This lesson concentrates on simple line drawing and its creative possibilities.
The line drawings you see here were all created from a photograph of hollyhocks. The idea for each new version came to me as I was focused on creating the current image. I am presenting them to you in the same sequence they occurred to me.
Take Away: If you want to add creativity to your drawings, try not to pre-think it too much. Instead, start drawing normally and then listen to your instincts about the possibilities.