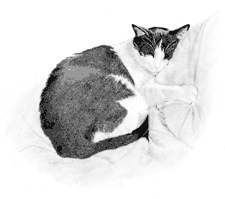 I filled in the darkest areas (10's and 9's) with a light hatch using a 4B pencil. If I had completely darkened those areas at this stage of the drawing, a lot of the graphite would have fallen off and they could have smudged badly as I worked on the rest of it. I put some dark values in those areas, though, so my eye would have clues about them, helping me to correctly adjust the other values as I worked.
To draw his forehead whiskers, I hatched around their outlines with tiny strokes of my pencil point. Some of them would need to have hard edges and some would need soft edges, but I kept all the whisker outlines a little blurred and fuzzy at this point.
Since the values in his face, chest, front leg and blanket were going to be very light, I lightened the lines of the original line drawing by tapping them lightly with a kneaded eraser.
I used a small brush that I'd dipped into a little powdered graphite to fill in the 2 and 3 values in his face, chest, front leg, and blanket. I used a soft rubber stump tool to smudge in the slightly darker 4 values. Then I used an eraser to lift out accidental smudges.
Since I could now see my composition better, I decided I would not need all the detail I had drawn over his back, so I erased that.