My Drawing Tools
I use simple graphite pencils and a few extra tools to create my artwork. Pencil can be manipulated into expressing anything you can see or imagine, and here are the tools I use to do that.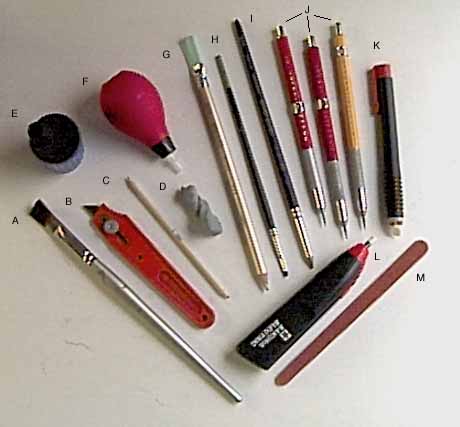 I order my supplies from Dick Blick, and I'm their affiliate. If you order from the links below, I'll get a (small) piece of the action. I appreciate that very much, and It helps keep Toad Hollow Studio online.
A. 1/2" Angle Shader for filling and shading large areas.
B. Small knife for shaping eraser tips and other uses.
C. Gray Paper Stumps
D. Prismacolor Kneaded Rubber Eraser
E. Alvin Rotary Lead Pointerto to sharpen my leads. Make sure you get the model that works with your lead holder.
F. Blow Bulb for blowing off loose graphite and eraser crumbs. The kind I use is meant for cleaning out technical pens, but there are cheaper alternatives. The kind of blow bulb used to blow dust off a camera lens works great, and a "snot sucker" for babies can be used to "blow" instead of "suck." Sorry to be so graphic about the snot sucking contraption, but they're cheap so it's something you needed to know. :)
G. Type Writer Erasers are impossible to find now, and I need to update my tool photo! However, the Perfection Eraser by Faber-Castell looks promising. The best thing about the original was that you could sharpen them in a pencil sharpener to a very fine point, and that's what this one is built for too. There are a few bad reviews about this eraser on the Dick Blick page, but it sounds to me as if those people would have had the same complaint about the original typewriter eraser. If you're trying to erase into thick graphite hatching, you'll have to remove some of the graphite first by tapping the area with a kneaded eraser or the graphite will smudge. This is true for any "hard" eraser because graphite is very slick. (It's even used as a lubricant.) A kneaded eraser is sticky and erases by lifting the graphite off the paper. So, remember to lift first, and rub second.
H. 1/4" Angle Shader for detail shading.
I. Colour Shaper Tool - No. 2 Hard Chiseled tip for very fine shading and lifting of graphite.
J. Prismacolor Turquoise Lead Holder - I have several different brands of these now, but some of them don't fit the Alvin point sharpener as well as others.

Staedtler Lumograph and Derwent are the best drawing pencils I've found, and the best 2mm graphite leads too. Graphite lead varies from brand by brand and from year to year. One brand's B can be line another brand's 2B, so it's a good idea to get a set of leads of the same brand. A good range to begin with is 4B, 2B, B, HB, 2H, and 2B.

K. Paper Mate Tuff Stuff Eraser Stick - I switched to this eraser a while after I took the photo of my tools. It's a very good, stiff - but not too stiff - eraser. It erases quickly and you can shape the end of it into a wedge or a point for erasing fine detail.

And don't forget to get a pack of refills too. They're cheap. :)

L. Sakura Cordless Electric Eraser - More expensive than some, but mine is over fifteen years old and still runs fine. It's lightweight and fits the hand well too.

Which ever bran you choose, pick up some eraser nib refills too. You'll go through a lot of them at first.

M. An Emery Board or a sandpaper block for sharpening the battery powered eraser nib, pencil tips, and to shape plastic or vinyl erasers for fine details.
I also use magnetic drawing boards that I built myself. (See how I use and build my magnetic boards here.) Simple magnetic white boards work great too, and they're inexpensive so you can invest in some better magnets. The magnets that come with the white boards aren't strong enough to hold several layers of drawing paper, photos, masks, and etc..