Origami Bookmark with Tuxedo Cat On It
Print, fold, enjoy!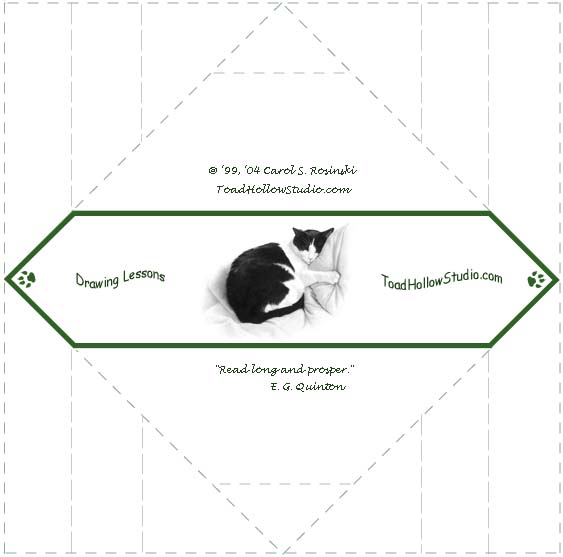 Folding Instructions
(Work on a solid surface and always crease each fold sharply with your fingernail.)
1. After you've printed the bookmark, cut along the outer dashed lines and you'll have a paper square with the bookmark in the center.
2. With the image facing you, fold the paper down along all four diagonal dashed lines. The tips of each corner should all meet in the center of the back of the bookmark. You should now have a diamond shaped piece of paper with the bookmark in the center on the outside.
3. Holding the folded paper with the image facing you, carefully fold down along the long sides of the bookmark being sure that you are folding along the outside edges of the border away from the image. Unfold each one after you're done.
4. Place the bookmark image side down. You will see four dashed lines: One where you have folded along the longs sides of the Bookmark, and one further out toward the point of the diamond shape on each side. Fold up along each outer dashed line. You'll notice that the tip reaches the center of the bookmark on the back.
5. Now you will see another dashed line on each triangle shape you just folded up. Fold back along this line in the opposite direction of the previous fold.
6. The folding is now done and you are going to tuck in the triangle points to complete the bookmark. Pick up what was the top and bottom edges of the original square you cut out. (They are folded to the middle of the Bookmark.) Unfold and then refold the dashed line folds tucking them under these edges.
| | | | | |
| --- | --- | --- | --- | --- |
| The front of the bookmark should look like this. | | | The back of the bookmark should look like this. | |
This origami design and the images on it were created by Carol Rosinski. If you want to use the folded origami design for your own bookmarks, please contact me for permission.