The First Fill Layer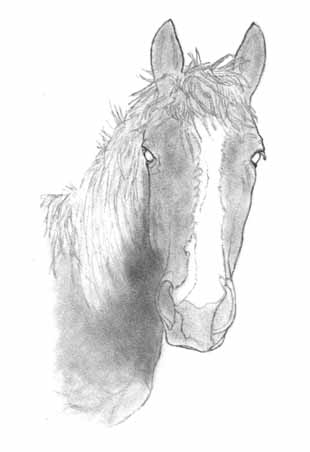 Put some finely ground graphite on a scrap piece of paper. Dip a small brush into it, make some practice strokes, and then use it to fill in the horse's face.
(Make your own powdered graphite.)
Be careful not to rub out the guide lines when you're doing this fill layer.
Fill in his lips, face and ears. Don't try to darken any area to its full value yet. Instead, make this first layer a little lighter in all areas than what you see on the finished piece. Leave his blaze and eyes untouched for now.
If your brush marks look streaky, you can help smooth them out by going back over them at right angles using a scrubbing motion.
Fill in his mane and neck next. Fill his mane into about a 2 or 3 value for now. To create a 2 to 3 value with your bush, make sure its almost empty on a scrap piece of paper first. His neck is very dark so you can really scrub in the graphite there with the ends of the bristles. Start to notice where the shadows are falling on his neck and chest. The darker area goes all the way down to the bottom of his chest and it's at an angle.
Use a kneaded eraser to clean up any graphite that has strayed out of the lines.