Mane Forelock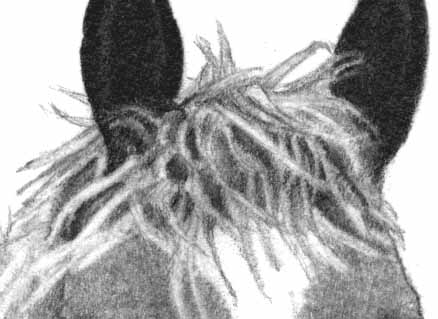 Use a 2h to start filling in the dark streaks (10 values) in his forehead and neck mane. Don't be overly concerned with correct positioning, just try to get the shadows in the general areas they should be in.
A good way to get the hair shadows shaped well is to "turn off" seeing the hair and "turn on" seeing the shadows. It's a mental shift that takes some concentration but you can see that the shadows do have a rhythm and pattern if you really look at them. Just get the general pattern of the shadows blocked in and you'll have the general lay of the hair right.
Use a 4h and to darken the next darkest shadows (9 & 8 values). Use a 5h to block in next darkest shadows (6 & 7 values). If the highlights of his mane (the strands you haven't touched yet) look too light, use a stump to darken them by softly stroking them into 3 to 5 values.
Use your stump to darken the soft mane hair across the bottom of his ears, too. The hair at the bottom of his ears is soft looking, so blur the hard outline lines with the tip of your stump.