Mane Forelock
and Ears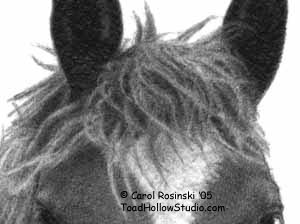 Notice that most of the strands of hair in his forelock have soft edges. The guide lines you drew are probably sharp or crisp looking so you may need to blend and soften them. You can do that by gently tapping them with a kneaded eraser that's been pinched into a point, or by rubbing them with the point of a stump until they blur slightly.
If the highlights of the hair strands are too light, go over them lightly with the tip of a stump until they darken to the right value.
To make the hair strands more realistic looking, use a 6h or 7h lead to thin some of them. To help keep the edges soft and varied looking, thin them by many small hatches along each edge instead of a long solid line along the entire strand.
Use a stick eraser that you've cut into a wedge shape to lift out light valued strands, and to touch up any highlights that need it. You can use a stick eraser to gently lift out fuzzy hair detail in dark areas too, like those at the bottom of the ears.
His ears are an extremely dark 9 value but they do have some highlight detail. Fill the ears in with a 2h around their edges and a 2b on their interiors. Use a stump to pull graphite over into the highlight areas then use a 4h to even out and darken the highlight areas even more. The highlight areas are very dark and soft around the edges so blend carefully and use a kneaded eraser to lift out graphite if they become too dark.