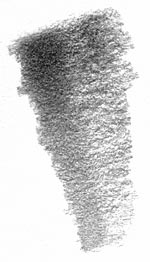 Combined Shading
The third example combines both of the shading techniques explained above.
When "tip of the pencil shading" is added over "side of the pencil shading," the texture looks a little smoother and darker. Additionally, this type of shading is easier to control so you can use it to shade small areas and to create finer detail.
The paper's texture will effect this type of shading tremendously, so make test hatches on a few different kinds to find a texture you like before you begin.