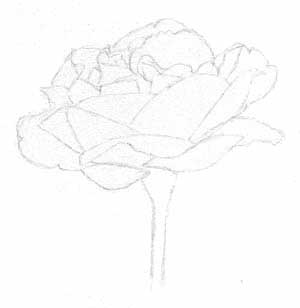 Step Three - Draw The Interior Petals And Stem
Use a 2H pencil for this step.
The petals in the interior of this flower look a lot like a jigsaw puzzle, and your job is to put the puzzle together.
Each petal touches another petal, so they'll build on each other as you work.
Work your way across the front and up through the interior of the flower, drawing one petal at a time.
When you're done, add the stem. Notice how wide it is and at where it connects to the flower.
You don't have to draw the flower perfectly. Drawing "miscues" are organic and part of the drawing process, so relax and enjoy this step.