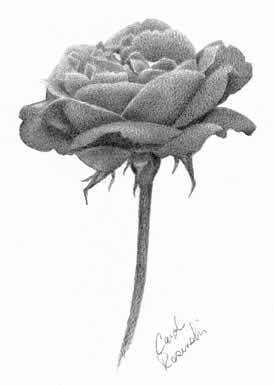 Step Seven - Increase Contrast and Add Final Details
Use a 4B pencil, a kneaded eraser and a vinyl eraser for this step.
Sometimes graphite pencil drawings of flowers need a little help to look as bright and beautiful as the real thing. A great way to do that is to create more contrast.
First, with the dull tip of a 4B pencil, begin to darken the very darkest shadows even more. Pay special attention to the shadows in the creases between petals.
Next, use the kneaded eraser to lighten the lightest highlights. To do that, pinch the eraser into a wedge shape and stroke the thin edge along the petal edges to lighten them. Then, lay the edge of the eraser along the petal edge and gently pull it down into the petal to blend the highlight in a natural looking way.
I darkened the shadow edge of the stem so that it matches the contrast of the flower too.
To add even more interest, add the three downward angled bud casings at the bottom of the flower. (Practice on a scrap piece of paper first.) Draw them "loosely", with the side of the pencil, in just a few quick movements. If you lay down the marks so that one side or the other is a little darker, the casings will look shadowed and realistic. To make the middle one look bent, tap a highlight across its middle with the pinched tip of a kneaded eraser.
Finally, erase any left over lines and smudges and sign it!