Drawing Accessory Reviews
Here are some simple and handy drawing accessories that make drawing easier and more fun.
Daler-Rowney Artsphere Arts & Crafts Workstation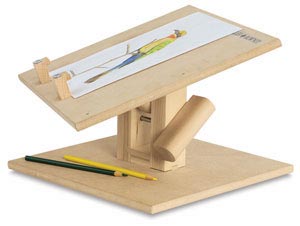 A compact drawing board that doesn't take up much room.
This workstation / drawing board is sturdy, compact, and unique. The whole thing is made out of wood and, besides being pretty, the wood makes it heavy. (It'll hold 8 lbs. level.) The drawing board rotates on a wooden ball to any angle you want. One short twist of the big handle on the side tightens and secures the board.
We live in a small house and I've been looking for a truly compact drawing board for a long time, so I bought an Artsphere and it's the perfect size. The base is 12' square and that means I can put it on nearly any flat spot in the house that's not occupied by a cat. It's so nice looking that I leave it in our living room with the drawing I'm working on displayed on top. (With a sheet of plastic over the drawing for protection.) It not only makes an attractive display, but seeing my artwork from all angles and at odd moments helps me see it objectively.
The only "problem" I have with it are the two wooden blocks that are meant to support the paper or canvas. There are several holes in both the long and short sides of the drawing board so you can position them where ever you want, but they're awfully big. They attach with a simple bolt and wing nut though, so I removed the blocks and use large washers to hold the paper instead.

Prospek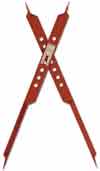 This is a great perspective tool. You sight the object between the short end points and use the other end to mark the size on the paper. You can adjust the real size to drawing size ratio by moving the locking peg (where the legs cross) to a different hole.
It's also an excellent tool for portraiture, figure drawing, and anywhere else proportion is tremendously important.
Sav-a-Points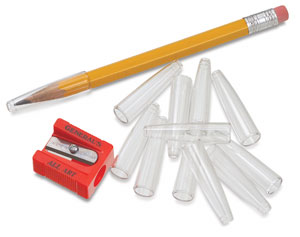 These simple little plastic things are called "Sav-A-Points" and I wish I discovered them a long time ago. As you can see, they're plastic point protectors. I work with very sharp leads most of the time and I like to keep them that way. My pencils get toted all around the house, banging into each other and breaking off their points as they go, so these little gadgets save me a lot of re-sharpening time.
They are made for wooden pencils but I can snug them up over the points of my mechanical pencils and they stay put. They're made of clear plastic and they are easy to lose, so order a couple of bags of them at a time. They're cheap and you get a little sharpener, too.
Natural Chamois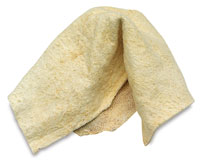 The fuzzy soft surface of a chamois cloth makes a useful blending tool. You can wrap it around your finger to blend large areas or you can fold it into a square and use a corner for smaller areas. You can "lift" graphite with a careful dabbing motion too. When it gets full of graphite dust, it's time to replace it since they don't survive washing very well.
I buy one large piece and cut off pieces as I need them.
Artograph Lightracer Light Box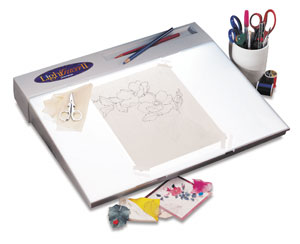 I use this light box by Artograph a lot. It makes transferring a rough sketch to good art paper easy and it's great for tracing photographs, too. The light is strong enough to make a line drawing visible through 140 lb. watercolor paper or Stonehenge drawing paper, but you do need to be in a darkened room.
I use an HB pencil with a very light touch to trace, and a kneaded eraser to touch up mistakes. Since I work in a darkened room and can't see anything but the drawing, the HB medium soft pencil lets me make a line without pressing too hard and scoring the paper. The soft eraser lets me erase without smudging.
Alvin Drafting Kit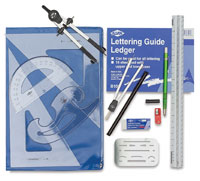 This drafting kit by Alvin has some very useful drawing tools in it and a mechanical pencil and a pointer too. These are not tools that I use everyday, but they're handy in some circumstances. For example, the dividers can be used to take quick measurements, the erasing shield works excellently with a battery powered eraser, a french curve can help you duplicate a difficult shape, and the triangles can be used to make sure boarders are square.

Alvin Erasing Shield
This the the same erasing shield that's in the Drafting Kit by Alvin. You can probably imagine how useful shields are. They're made out of a thin piece of metal so you can erase the shapes with precision. At one time or another, I've used all the shapes in my shield to help erase precise edges and create sharp highlights.
The images on this page were kindly provided by Dick Blick.